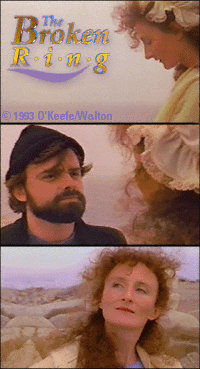 The Broken Ring (1990) After seeing my cinematography in The Movie of the Week, Halifax director Glenn Walton approached me to D.P. his productions "Life After Diagnosis" and "The Broken Ring". This short film is based on a folk song from the collection of Halifax doctor Helen Creighton, and is sung for the film by Clary Croft. It tells the tale of a sailor testing a maiden's virtue while her husband is away at sea. For the shots at left, I used a sunlight filter to warm the cold hues of the Atlantic Ocean. Thanks to the natural Maritime diffusion, I used no lighting materials beyond bounce cards. The sequence features Jim Petrie and Mary-Colin Chisolm, who perfectly accent picturesque Peggy's Cove, Nova Scotia.
View it (2:04 minutes)
Original format: 16mm colour negative film, 06:00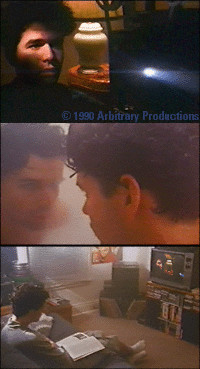 The Movie of the Week (1990)
I photographed and lit most of this film between 1989 and 1990. It was the first feature by Thom Fitzgerald, which he co-directed and produced with Andrew "Dreux" Ellis. My involvement in the technical production was pretty much one-man show, having to light and grip many diverse film and video segments myself. Andrew and I toggled camera operation/sound recording duties. Most of the film was in black and white, and the majority of my solo D.P. work took place in the film's colour opening sequence. The film premiered at the 1990 Atlantic Film festival as one of four homegrown features that year. I was nominated for their "Best Lighting" award. Thom is now best known as the writer/director of "The Hanging Garden" (1997).
View it (3:30 minutes)
Original format: 16mm B&W and colour negative film, 71:00